Looking back on 2017, it was definitely a mixed bag.  We had a bumpy start with the bees, losing one hive right away because the queen didn't survive.  Our mentor was kind enough to give us some bees that he had split from one of his hives and we were quickly up and running again with two hives.  We were diligent about feeding our bees all summer (using almost 300 lbs of sugar!) and going into the cold weather, both hives were four boxes tall with lots of honey in them.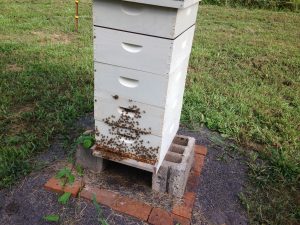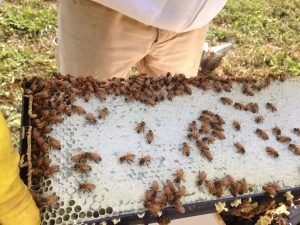 Winter is a very risky time for beehives, but starting with two strong hives increases their chances of survival.
I also had better luck with my garden this year.  I grew heirloom tomatoes from seed for the first time this year, and not knowing how well they would produce, I went ahead and planted 16 plants.  I  planted cucumbers for pickles, several varieties of peppers, edamame, tomatillos, squash and lots of herbs as well.  We had a very strange growing season with heavy rain followed by weeks without a drop, so not everything did really well, but I had lots of fresh produce and plenty of tomatoes and cucumbers that I was able to can salsa and pickles and freeze spaghetti sauce.  We had a big crop of peaches and I did manage to get them picked and frozen too.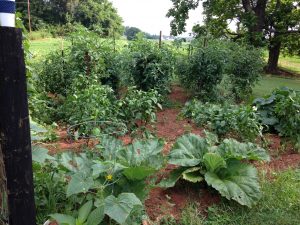 On the down side, our animals had a really rough year.  It started in June when I brought the horses in one morning to find that Banjo had a 6 inch gash on his shoulder.  It was too late to stitch it – it had already swollen and would have pulled the stitches out when he lowered his head to graze.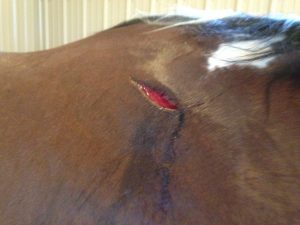 It took nearly three months of daily cleaning and dressing the wound, but it has healed up very well.  We haven't been able to figure out exactly what happened, but I had a feeling that Max was responsible.  Although they love each other very much, they play way too rough and they were continually getting injured (minor injuries to this point) and losing shoes.  I decided to separate them and they have stayed injury free since then.
Things went down hill from there, however.  In one week, we lost two chickens and our darling cat, Martha.  We had some sort of predator that just reeked havoc on the farm.  One chicken was attacked right in the middle of the day.  I'll spare you the details, but it appeared to be a bird, possibly an eagle or a hawk because she was injured on her back (as opposed to being drug off by a fox).  A couple of days before, Martha had a traumatic injury to her leg and spine that left her paralyzed.  We were never able to determine exactly what happened, but it sure seems like she was attacked by something as well.
I was devastated.  Although I know that these are the risks you take when you have animals, it was really tough to deal with all of these losses.  As it turns out, there was a silver lining to all of this.  One day when I was in the vet's office picking up some medicine, the vet tech (with whom I was now on a first name basis) asked me if I was going to get another cat.  I said we probably needed to start looking for one, but I just couldn't bring myself to begin the search.  She mentioned that a client had brought in a kitten that had been dumped off at their business and although they were taking care of it, they really didn't want to keep it – would I be interested?  Sometimes things just have a way of working out and less than 24 hours later, Hazel entered our lives.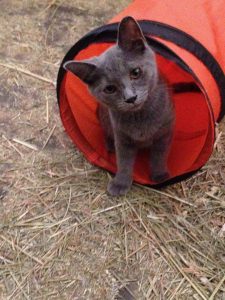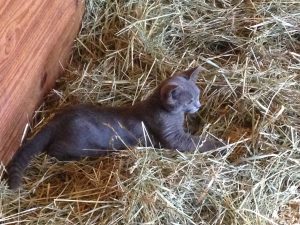 I still wasn't over losing Martha – it had only been a few weeks, although  I should have known nothing could replace her.  Martha was calm and sweet but not at all playful.  Hazel is rowdy, fun loving and into everything.  She loves to play in running water and wrestle with the dogs.  She has been a joy to have around and all of the other animals love her.  Except the chickens.  Hazel loves to chase the chickens.  The chickens do not loved to be chased.  Oh well, she doesn't hurt them, so they will have to deal with it.
After all, Hazel is the silver lining in what has been a rough year at Glenmore!