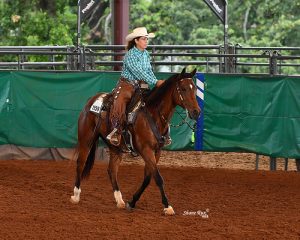 This horse.  What a summer we've had!  It actually started last April when my friend Colleen sent me a text asking if I'd be interested in going to the world show with her.  So to clarify, the American Quarter Horse Association puts on a world championship show for its Versatility Ranch Horse division in Oklahoma each year in June.  A lot of my friends have either gone to the show to compete or have gone to watch it at some point.  I have only been doing this Versatility Ranch Horse (VRH) thing for a couple of years and I have never been there to see it.
When Colleen asked about going to the show with her, I figured I'd just go with her to help her out and that way I could see the show and get a feel for what it was like.  Then maybe in the next year to two, I would take Max and show him there.  When I mentioned it to Gator, he looked at me like I was nuts!  He said that of course I should take Max and that I might never get another opportunity to do this.  I reminded him that this was the WORLD SHOW and that we really had no business going – we weren't ready for something like this.  After all, we just went to our first overnight show in March.  Gator then asked how would I get ready for something like this other than to just do it.  I hate it when he's right! So I decided to take the plunge and go – with Max.
We travelled with a group – four trailers, nine horses and ten people.  It took us three days to get there.  Colleen has a wonderful 3 horse trailer with living quarters so it was really great for a long trip like that.  We were able to camp right at the places where the horses were staying overnight.  Travel was relatively uneventful and except for the fact that it was hot, the weather was good.
We arrived at the Lazy E Arena where the show is held on Monday afternoon and my first classes weren't until Wednesday morning.  I thought that would give us plenty of time to get settled and in calm our nerves.  On Tuesday, we saddled up and took a tour of the show grounds – the place is huge!  I was so intimidated.  Our first class on Wednesday was trail and I was a nervous wreck.
When I'm a wreck, Max follows my lead and is a wreck too and we went off pattern.  I was really disappointed because I knew we would have done better had I been able to keep my nerves in check.  Oh well, on to the next class.
Reining was Wednesday afternoon and I was determined to get myself together.  I knew the pattern and was confident we could manage to get through it.  We were ready to go when they called us and off we went.  Things seemed to go pretty well but on the second set of spins, I heard someone yell "STOP!" when we finished the 3 1/2 spins we had to do.  I couldn't figure it out and when I came out of the arena, my trainer was standing there with a funny look on his face.  I asked him if I was off-pattern and he said I did 4 1/2 spins on the first set of spins.  I couldn't believe it – I even counted how many times I went around!!  I was devastated – another disqualification.
After that, my last class, Ranch Riding was the very last class of the show on Saturday afternoon.  On my off-days, I rode and watched the other members of our group compete. Colleen and I also managed to duck out for a couple of hours and do a little shopping.  I was surprised how busy we were, though.  The week just flew by!  Finally Saturday arrived and although our class was schedule to run at 4:15, it didn't start until 6:30.  I was 19th to go, so it was at least an hour later before it was our turn.  By that time, I was tired and ready to head home.  I had let my nerves get the best of me and the show had been a disappointment.  I just wanted to ride my pattern and be done with it.  So that's what we did.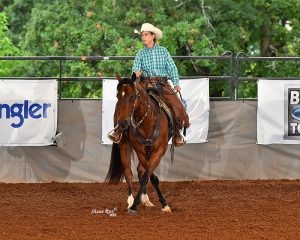 I was too tired to be a basket case and wouldn't you know, I didn't screw up!  We ended up placing 11th out of 45 and I couldn't have been happier!  That two minute ride changed me as a rider.  I realized that Max will do whatever I ask, but he won't be confident in what we are doing if I'm not.  I'm not sure why it took a trip all the way to Oklahoma to figure that out since it's not rocket science.
The three day trip back home was uneventful.   Max came back a different horse.  He is much more confident and doesn't get flustered over little things like he used to.  The next weekend I took him to our local show with the East Coast Stock Horse Association and got brave enough to  enter the cow classes (cutting, cow work and roping) for the first time.  We finished third overall. Yep, it has been quite a summer!