In our usual style, Gator and I finished of 2015 with a bang – or should I say PROJECT?  We just couldn't leave well enough alone, and since December was so mild here in Virginia, we decided to fence in a couple of fields.  Our single pasture was getting over grazed by the horses and it has always been part of the plan to add another field or two so that we can rotate and give them time to recover and regrow.  One of the fields is small – just about an acre, which will work well for one horse when I need to separate them.  The other one is about 5 acres and has lots of good grass.  These two new fields will just about triple our turnout area.  That means a lot of posts had to be set – but not before we got them painted.
The good news is that we were pretty much over the learning curve and we got 145 posts painted in one weekend.  Gator rigged our round bale spear for the tractor to carry the posts out to the field.  At the recommendation of our local Co-op agent, we decided to rent a post driver instead of using the auger on our tractor to drill post holes.  It pays to listen to people who know!  What a great decision – we were able to set about 120 posts in about 12 hours over two days.  After that, it took about 4 days to install the insulators, do the bracing, install the gates, string the wire and do trenching to bring the electricity over.  I can't tell you how glad I am that we are done with that!  Hopefully we won't be building any more fence for a long time.
That wasn't the only project that got wrapped up to finish out the year.  I have been working on five different cross-stitch projects over the past 3 1/2 years for my daughter's family and I just finished the last one!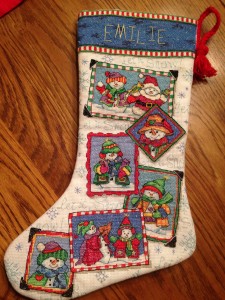 Now everyone has a Christmas stocking and both grand kids have framed birth announcements.  I wish I had counted how many hundreds of hours I have spent working on them.  I think it will be a while before I do any more cross-stitching – I'm kind of burned out on that too…
It was a really good year – we were blessed in so many ways.  We got a lot of things accomplished and now maybe I will have more time to blog in the new year!